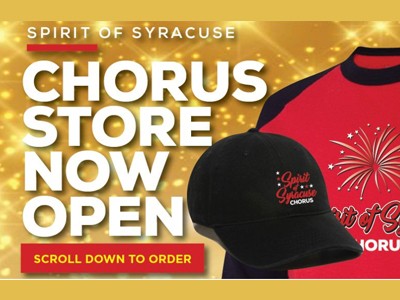 Exclusive SOS gear now available for limited time! 
Are you an SOS fan? A family member? An SOS alumni? An aficionado of the Syracuse A cappella scene? #acaYES!
Don't wait another day! Get your exclusive Spirit of Syracuse chorus gear now through March 22! An awesome assortment of apparel and gear from our great friends Holy Shirt! Order through this link today and show your SOS love!
Click here to order!
https://holyshirt.com/collections/spirit19
Show your SPIRIT OF SYRACUSE PRIDE with our awesome NEW GEAR from locally owned & operated Holy Shirt!
THIS IS YOUR ONLY CHANCE TO PICKUP THIS APPAREL & OUR STORE WILL ONLY BE OPEN AND ACCEPTING ORDERS UNTIL FRIDAY, MARCH 22 - DON'T MISS OUT!
Please note that your order will NOT ship directly to you.
All items will be available for distribution by Evelyn Langenstein upon receipt of goods from Holy Shirt apprx 3 weeks after the conclusion of our store.
Any Questions please contact Evelyn at [email protected]