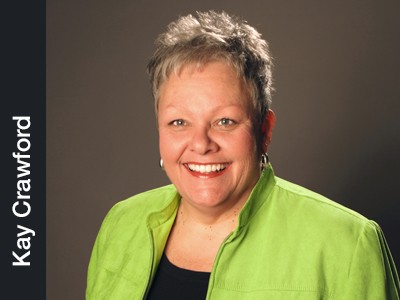 Passionate, Exciting, Dramatic, Energetic, Knowledgeable, Driven, Purposely Joyful – these are words that describe Kay as our Director.
Kay's Sweet Adeline history spans more than 30 years, starting in 1985 when she was just out of college and the "youngster" on the risers in a small group of about 25 women.  Soon after her arrival she became the bass section teacher, having had a long history of education in piano and voice.  Since that time, her dedication to the music program and the women of the Spirit of Syracuse Chorus has included more than 25 years on the Management Team, the Music Team, and various chorus positions such as Membership Chair, Team Leader, section teacher and Assistant Director. In 2009 Kay became the Front Line Director of SOS, continuing the tradition of strong music leaders for the chorus. At her first regional Sweet Adeline contest as director in 2010, Kay received the Novice Director Award from Lake Ontario Region 16.  Two years later the Spirit of Syracuse Chorus earned a score above 600, elevating Kay's designation to that of Master Director.
"The most important thing to me is that this chorus flies free – that these women are happy," says Kay. "We have several competing quartets; we have a contingent of young voices; we have a contingent of seasoned voices, and their hearts all fly free when they're singing. Each singer expresses her joy, her heart and her emotion through what we do here. It's so much more than just singing.  Friendships are found, relationships are formed, hearts are entwined, families brought together – all through the art of barbershop and the fellowship of this great hobby. Yet…it's just singing – on any random Tuesday in Syracuse. Joyful, random singing - purposeful joy."
When not working with her own chorus or the many quartets from SOS, Kay coaches other choruses and quartets in her region. She is very interested in the development of youth programs which support the barbershop art form. She is strongly interested in the development of administrative and musical leaders within the framework of our own chorus, and Sweet Adelines.  Kay feels that developing young singers and leaders is paramount to perpetuating our cherished original American art form. 
If you ask her, she will tell you the words she lives by are kindness, musicianship, fairness, honesty, love and friendship.