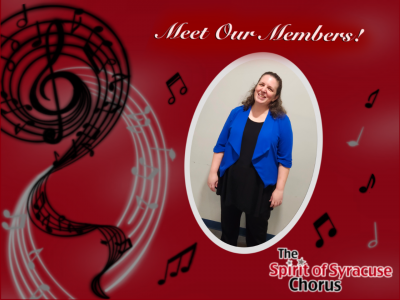 Meet Sky!
Occupation: Music Teacher AKA Cat Wrangler
Sky joined the Spirit of Syracuse in 2006 as a baritone (but now sings whatever part the director tells her to)! Her interest started at a young age as her dad sang barbershop. Later in life she realized she missed barbershop, searched the internet, and found us! Now, she is our Associate Director and the founding Director of Harmonic Collective. She continues to sing because she has found a family she never knew she needed. She is also grateful she has the opportunity to sing with her Mom and some of her former students! Her favorite memories are hanging out at night after retreat and conventions where we are all still singing, bonding, and being "nighttime dumb."
Sky, we are blessed to have you in the chorus. Thank you for all you do!