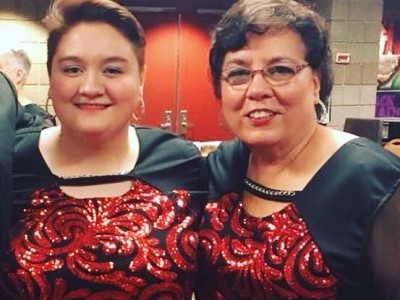 Inez and Rachael are a Grandmother/Granddaughter pair who are members of the Spirit of Syracuse.  They took the time to answer our questions about how this art form has enriched their relationship.  Enjoy!
When did you come to Barbershop singing?  Who brought who to the Spirit of Syracuse?
Inez: I was introduced to Barbershop by a high school friend in 1993. She invited me to a membership drive for the Spirit of Syracuse Chorus.  I introduced my Granddaughter to Barbershop when she was 12? SOS offered a summer program where students could come and sing for free. Rachael liked it enough to go to a barbershop camp at Hobart College.
Rachael: My first experience was when I was 8. My gramma brought me in for this educational kiddie day camp that was put together to try and teach the next generation of Barbershoppers. I didn't take to it at first. My gramma brought me to a another Barbershop camp years later, when I was 12. I went to that camp and similar camps for the next 6 years. I officially joined SOS when I was 17.
How long have you been singing women's Barbershop music?
Inez:  Can't believe it's going to be 25 years.
Rachael:  First ever experience? 12 years. On a regular and consistent basis? Just over 2 years.
What is the most challenging thing about singing Barbershop that mother/daughter relationship has helped you with?
Inez:  Rachael reads music and I don't, she sometimes sings difficult passages to me so I can get them! 
Rachael:  Costumes and makeup. It's not my forte, so it's really nice having my gramma and my aunt on the costume crew.
What do you enjoy about singing together?
Inez:  I love sharing my hobby with my Granddaughter and watching her grow musically.  It doesn't matter  if you're young or old we  are sharing the same joy and music education of this American art form.
Rachael:  Just getting to see my gramma and my aunt more often, not to mention multiple friends I've made in the chorus.
What tip would you offer a new member joining SOS?
Inez:  If you love music and want some life long friends try singing Barbershop, you'll never be alone.
Rachael:  Don't be overwhelmed by the competitive nature of Sweet Ads. More than anything we work towards for regional competitions, the most important and valuable thing you will ever do at chorus is make memories and friends.
What is your favorite thing to do when not singing at SOS?
Inez:  My favorite thing to do outside of chorus is to travel and that sometimes means taking in an International Barbershop Competition!
Rachael:  Sing everywhere else.  Whether I'm in full health and full voice or sound on par with a whale, I'm always singing and jamming out to music.