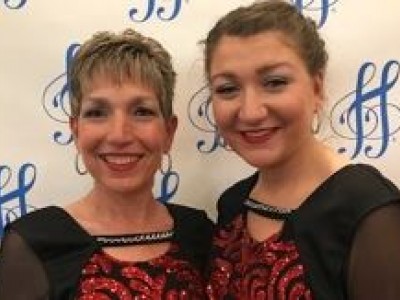 Terri and Danielle are a Mother/Daughter pair who also took the time to answer our questions about how their barbershop experiences.
When did you come to barbershop singing? Who brought who to SOS?
Terri:  I was introduced to barbershop nine years ago. My daughter, Danielle, was in seventh grade and had Sky Harris as her choral teacher. I attended summer camp performances, and her first regional competition as a chaperone.  Danielle was hooked on barbershop and SOS hooked me.
Danielle:  I was introduced to Barbershop the summer after seventh grade when Sky invited me to sing at a Harmony Explosion Camp. I thought it would be just a normal a cappella camp but it turned out to be something much more! Sky was also the one who brought me into SOS my sophomore year of high school.
How long have you been singing women's Barbershop music?
Terri:  I've been singing with SOS for 5 years.
Danielle:  I've been singing women's barbershop music since I began going to those camps.
What is the most challenging thing about singing barbershop that mother/daughter has helped you with?
Terri:  If you give me a paint brush and canvas, I can create a masterpiece! As much as I enjoy singing, it has often taken me out of my comfort zone!  I have learned that with both art forms it takes skill, dedication, and hard work. Be patient with yourself. Your confidence will shine through.
It's funny how this mother and daughter thing works. I've supported Danielle through her musical career since she was three. Now she supports me as a singer.  Danielle taught me that we all can sing and no matter how musically trained we have become, we continue to be a work in progress.
Danielle:  I think the most challenging thing that my mom has helped me with is finding confidence in my ability to lead a group of this kind, being a younger person I get a little in my head about what/how I can contribute to the chorus so she has always been reassuring and honest in that aspect of things.
What do enjoy about singing together?
Terri:  Singing together has created a forever bond between us through music. Danielle's passion for barbershop has definitely rubbed off on me.
Danielle:  I really enjoy that this is something we get to do together because we have different personalities. But the chorus gives us a place to be together at least once a week when our schedules might not allow it otherwise.
What tip would you offer a new member joining SOS?
Terri: SOS has turned out to be a musical journey. One that makes you grow as a person, singer, performer. This chorus has taken my daughter and me to places I've never been before …..Arizona and Vegas, etc………and many friends to boot!  Singing may not come easy to you. Keep working hard and never give up. The rewards are amazing. Music heals your soul and can create bonds that will last a lifetime.
Danielle: Try not to get too overwhelmed at the beginning. I get it, we're a big group of women, all with different personalities and ages singing a lot of different rep, but hear me out: Start with the music that is being focused on the most in each rehearsal and then move on to others. A thing that is constant throughout the chorus is that there's a lot of passion and willingness to help others so don't be afraid to ask questions!
What is your motto for life?
Danielle:  A motto that I live by is a quote that really hit home for me that says, "Don't chase people. Be anexample. Attract them. Work hard and be yourself. The people who belong in your life will come find you and stay. Just do your thing." I've found myself through barbershop and I'm so thankful for all that it has and will continue to teach me.