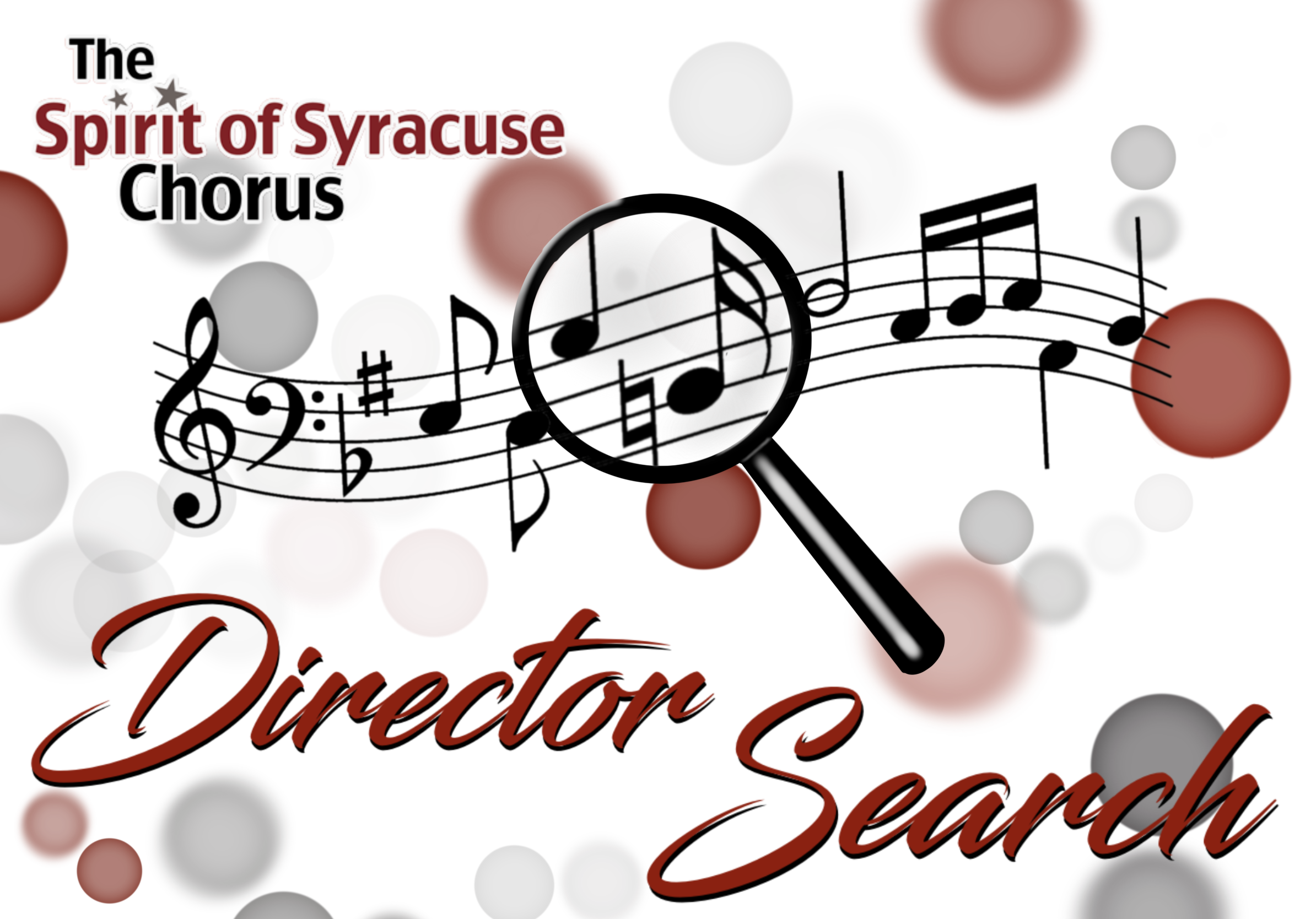 The Spirit of Syracuse Chorus is a cutting-edge chorus of dynamic people with a passion for musical excellence. We are looking for an enthusiastic individual who is ready to help take our chorus to the next level.
Interested candidates should submit a letter of interest and resumes/CV via email to: 
[email protected]
. You may also submit a short video of yourself directing a chorus (optional). Application Deadline January 31, 2023
The Spirit of Syracuse Chorus, located in scenic Central New York, is currently comprised of approximately 60 dedicated members who are looking to move forward on our musical journey. Founded in 1957, the chorus has competed in the Sweet Adelines International Competition six times, placing 21st at our most recent International competition in 2019. We perform consistently at a high B+ level and want to break the threshold into A. For more information about the chorus please visit our "About Us" page at https://spiritofsyracuse.com/about. To see video's of the chorus in action please see the following playlist on YouTube. 
Musical Director Qualifications:
established vocal and choral musical knowledge, background and abilities
strong interpersonal skills and the ability to encourage respectful cooperation among chorus members
strong organization skills
demonstrated ability to take a leadership role in instructing and directing a chorus in rehearsals, performances, shows and competitions
knowledge of a cappella and the barbershop style  (familiarity with Sweet Adelines International would be a benefit)
ideal candidates will have three years experience as a Chorus Director or five to seven years experience as a Chorus Assistant Director (consideration will be given to a candidate with extensive chorus music leadership experience)
while not a requirement preference will be given to candidates who have achieved their director qualification certificate from Sweet Adelines International 
Sweet Adelines primarily functions on volunteer energies. However, in view of the qualifications expected and the extent of responsibilities, our Director is eligible for an annual Honorarium. 
Director Responsibilities:
be responsible for the overall musical leadership of the chorus - working collaboratively with a music team
teaching and training members to sing four-part harmony in the barbershop style
on-going training and appointment of music team staff
assessment of the musical qualifications of prospective members
direct the chorus at all performances, chapter shows and competitions OR provide a suitable replacement
guide chorus development and support chorus goals designed to improve the musical product with a focus on vocal skills and audience connection
plan and conduct rehearsals and special rehearsals                           
diligently ensure performance standards are achieved
inspire and direct the chorus in rehearsals, performances, shows, and competitions        
work with the section leaders to orient new members musically   
work with chorus and music team to develop a long term plan for activities and a calendar of performances, social occasions, competition or show preparations, coaching and education
collaborate with the music team to arrange for coaching and education, choose musical repertoire including competition songs, arrange for song purchase, plan for introduction and development of new repertoire
maintain an understanding of the Judging Categories and the Performance Level Guidelines as established by Sweet Adelines International
participation as a member of - and attendance at - Chorus Management Team meetings and events
cooperatively work with the management team, music team and chorus committees to achieve performance goals and standards                                 
consult with the management team and music team to support development of chorus annual budget and ensure it is maintained
support committees and teams undertaking preparations and activities for chorus performances
participate in Region 15 activities for directors and maintain a presence in the region
be well informed about Sweet Adelines and aware of the International organization's initiatives and events