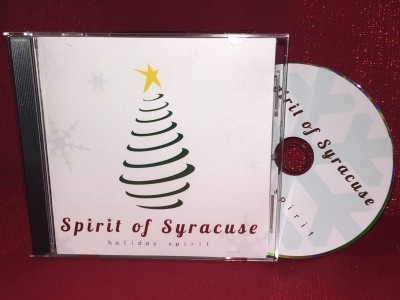 Our first ever holiday CD featuring some of your seasonal favorites, and a few magical surprises! 
Featuring guest performances by Harmonic Collective Chorus (BHS/Senecaland district chorus champions), Resonance Quartet (2015 5th place SAI Rising Star medalist), SoundByte Quartet (2018 SAI Region 16 quartet champions), and Revolution Quartet! 
Tracks include:
"We Need a Little Christmas" "Have Yourself a Merry Little Christmas" "Silent Night / Night of Silence" "Grandma Got Run Over By a Reindeer" "I Believe" "Peace on Earth / Little Drummer Boy" "Jingle Bells" "The Man with the Bag" "Mary Did You Know?" "You're a Mean One, Mr. Grinch" "All Rise" - with the combined choruses of the Spirit of Syracuse and Harnonic Collective "Sing Your Way Home"
Cost: $12 plus $3 for shipping. Total on-line cost: $15
Please allow 1-2 weeks for delivery.