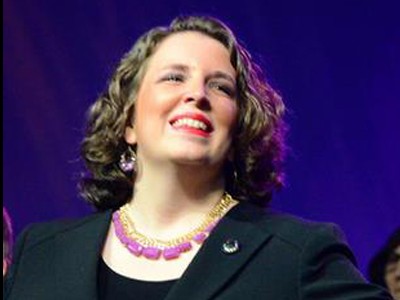 Sky Harris is the Associate Director of the Spirit of Syracuse and leads the Performance Team.  
A professional music educator in the Liverpool Central School District. Sky holds a M.M. in Music Education from Syracuse University, has been a clinician and adjudicator on the East Coast for the past 20 years, and has traveled internationally as both a performer and educator.  Sky regularly performs as a soloist and ensemble musician throughout the Central New York area, including with the Syracuse University Oratorio Society.
A second-generation barbershopper, Sky joined the Spirit of Syracuse, singing baritone, in 2006 and has been an active quartetter in Region 15 and 16. She is the founding director of two youth barbershop programs in CNY – Lakeside A cappella Camp, an overnight camp for exploring the best of barbershop and SAYacaFEST, a one-day festival run jointly with the Liverpool CSD.  She is the founding director of the men's BHS chorus, Harmonic Collective, who are Seneca Land District Champions and finished 20th at the 2019 BHS International Chorus Contest.
For her work in music education and the promotion of barbershop amongst the next generation, Sky was the 2015 recipient of the SAI/NAfME Award. 
Sky currently serves as Region 15 Coordinator for Young Women In Harmony and a member of the Region 15 Education Faculty. Sky is also a member of the National Association for Music Education, American Choral Directors Association, Onondaga County Music Educators Association, and the Barbershop Harmony Society.