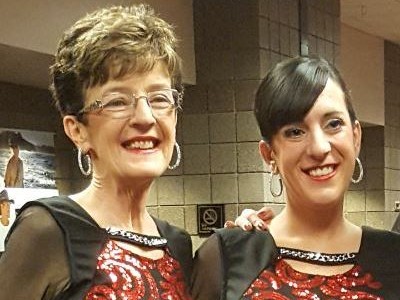 We have a Mother's Day extra today.  The story of Denise and Julie...two out of the six members of their family who all sing barbershop music.  It's truly a family affair.
When did you come to Barbershop singing? Who brought who to SOS?
Denise:    I came to Barbershop singing through my own mother.  She sang with the Jersey Sound Chorus and in a quartet called, "The Good Time Four."  I grew up hearing all the great choruses and quartets playing in our living room as well as the weekly quartet rehearsals that were held there!     I don't remember how I found SOS the first time (in 1984 ish), but I left after having my 3rd child (Jennie)  It was my children that later brought me back when they saw an ad for a Membership Drive at Carousel Mall! 
Julie:
I grew up in a barbershop family. I can remember my mom practicing choreography in the living room and playing her learning tapes over and over in the kitchen. We played with her old costumes in the attic and came to watch her compete. My grandma was a Sweet Adeline as well and we loved listening to old records of famous choruses performing and watching videos of her very elaborate shows. My sisters and I maybe made fun of my mom just a little bit and vowed that we would never join but one summer the Spirit of Syracuse held a membership drive and mom asked us to go and give it a try. We went one week and absolutely fell in love!
How long have you been singing women's Barbershop music?
Denise:  I have been singing Barbershop Music since 1984 and before that when I sang with my mother's Barbershop CD's!  (I sang Lead with those!!)
Julie:  I think it has been 8 years now!
What is the most challenging thing about singing Barbershop that mother/daughter has helped you with?
Denise:
I absolutely adore watching my daughter Julie perform.  Although I knew that she had singing and dancing ability from seeing her perform in High School plays, I really didn't understand the extent of her talent until seeing her perform in the front row in SOS.  She sings and performs with such abandon. Her eyes always tell the story. It truly is the way that I want to sing.  I watch her facial expressions, body stance . . everything, to assist me in being a better performer and singer.  
Julie:  My mom has helped me with my confidence. I was so scared to sing alone to voice place that I barely made it into that first rehearsal but she has encouraged me every step of the way. And the confidence I have gained through chorus has helped me in all aspects of my life. I would've never even tried to do it if it weren't for my mom.
What do you enjoy about singing together?
Denise:  I never had the opportunity to sing with my mother.  It has been very special to get to share the stage with Julie, to watch her grow and learn this unique art form.  It is a privilege I have had with not just Julie, but with two other daughters, Jennie and Anna, who are now singing with other choruses.  It has been one of my greatest blessings.
Julie:  I love seeing my mom each week at rehearsal. Life gets pretty crazy but knowing that we get to check in and spend at least one night a week together, doing what we love, has been amazing. All three of my sisters are in Sweet Adeline choruses and although we don't all see each other often it is something very special that we all can't stop talking about when we are together. It is incredible to have the opportunity every week to sing music in the same way that brought so much joy to my grandma, and continues to for my mom. I can't wait for the day my daughter joins us on the risers (she is our number one fan!)
What tip would you offer a new member joining SOS?
Denise:  I would tell new members to just take in everything you can.  You will grow in ways that you never imagined . . and not just as a singer.  This chorus is full of wonderful, giving people who will help you reach your highest potential as a person and singer.  Come every week . . practice . . learn your music . . attend coaching sessions . . and Regional events!  It's an amazing chorus and organization!
Julie:
My advice would be to just give it a try! Even if you don't consider yourself a singer or performer just go for it, sing from the heart and the rest will fall into place.
What part would I not like to sing?? 
Denise:  Definitely Baritone!!  Oh my, they do get some crazy, mixed up notes!
Julie:  I could never sing baritone! I so admire the work that they do but I would have such a hard time learning all those notes.