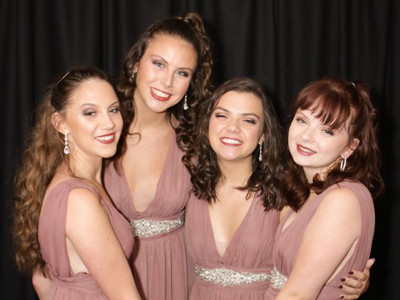 Perfect Fourth, our Young Women in Harmony Quartet in the Spirit of Syracuse Chorus, have placed second in the world at Sweet Adelines International's 2019 Rising Star Quartet Contest on July 27 at the Royal Northern College of Music in Manchester, U.K! Kristina Valentino (lead), Gabby Galanti (tenor), Catrina Tulowiecki (baritone) and Katie Sheerin (bass) have been singing together for 3 years since beginning the quartet while students at Liverpool High School.
The quartet placed with a score of 359 out of 400.
Duly Noted of Fort Myers, Florida harmonized their way take top honors at the barbershop singing championship.
Previously, Perfect Fourth performed at the 2017 Sweet Adelines International Rising Star Quartet Contest in Maryland where they received the 'Stars to Watch' award.
In 2018, the quartet thrilled in the Greater NY/NJ Region 15 Quartet Competition.  Their electrifying performance earned them 6th place and the 2018 Novice Quartet "Cracker Jills" Award.
Eight young female barbershop quartets from the U.K. and the U.S. delivered performances in four-part a cappella harmony during the SAI Rising Star contest. Duly Noted earned a grand total of 382 out of 400 points.
Valkyries of Valencia, California placed third, Blaze of Tampa, Florida placed fourth, and Singing Double of Tampa, Florida placed fifth.
The Young Singers Foundation (YSF), an official charity of Sweet Adelines International, awarded the prizes. First, second, and third place quartets received $2,000, $1,000, and $500 USD respectively. YSF has made over a million dollars in charitable donations, providing funding for hundreds of college scholarships, grants to school music programs and community vocal music activities, support for Sweet Adelines' Young Women In Harmony program and opportunities for international educational events.
The Rising Star Quartet Contest streamed around the world via Facebook Live. In addition to the adjudicated performances, viewers enjoyed special performances by Sweet Adelines International's 2019 International Champion Quartet, ClassRing and 2018 Rising Star Champion Quartet, Hot Pursuit.
Established in 1999, the Rising Star Quartet Contest recognizes the superior talent of young women singers age 25 and younger. It is an educational resource and performance opportunity for advancing the musical art form of a barbershop harmony.
Sweet Adelines International is a women's singing organization committed to elevating women singers worldwide through education, performance, and competition in barbershop harmony and a cappella music. Founded in Tulsa, Oklahoma in 1945, it is one of the world's largest singing organizations for women, with over 20,000 members in choruses and quartets across the globe. For more information, visit www.sweetadelines.com or follow on Facebook and Instagram via @sweetadelinesintl.