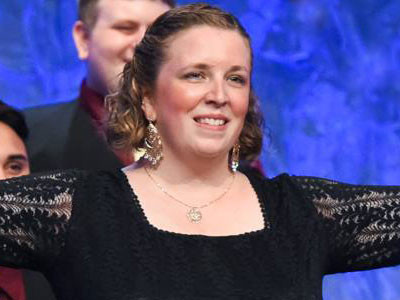 The Spirit of Syracuse Chorus is thrilled to share that AMANDA "SKY" HARRIS has been honored with the 2022 Harriette Walters Leadership Award during the NY/NJ Region 15 Awards Celebration in Albany, NY.
Harriette Walters (Master Director 700, Greater Nassau Chorus) revealed our winner, and Lori Britt-Horvath (Region 15 Management Team Coordinator) presented the award to Sky.
Here are some highlights from Harriette's remarks:
"A second generation barbershopper and career music teacher, Sky motivates and inspires the members of Spirit of Syracuse Chorus on a weekly basis. She strives for excellence and serves as a role model for all – and puts herself last and all members first!
She is also a pioneer in promoting the barbershop art form within the region and SAI by leading youth workshops (SayAcaFest) and Lakeside Acapella Camp. She shares her knowledge and passion with others by serving as both a chorus and quartet coach.   
She lives by the motto, 'barbershop changes lives and barbershoppers change lives.'
Sky is the ultimate example of a service leader."
We are so proud to call Sky "ours" and echo her amazing love, dedication and service to barbershoppers far and wide! 
---
For more on the Harriette Walters Leadership Award (criteria, past winners, submission process, etc.), visit: https://sairegion15.org/Leadershipaward