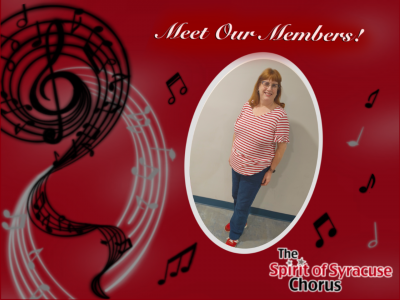 Meet Judi!
Occupation: Paraprofessional
Judi started her Sweet Adelines journey in 1996 and joined the Spirit of Syracuse in 2014. She was at a time in her life where it was work, eat, and sleep. She saw a poster in the grocery store and decided to check us out. As soon as the chorus hit a chord, she was hooked! She was also a duel member with Seven Valley Chorus. She actually competed with both chorus at competition! She has sang a variety of parts throughout the years and is currently singing tenor. She loves all the people she's met and continues to sing because of them. "Come for the music, stay for the people." Her favorite memories are of her first competition, getting her first medal, and getting to go to international!
We are hooked on you, too, Judi!